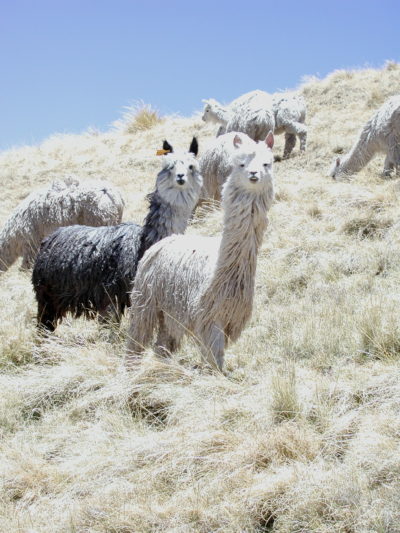 Alpacas (Camelids) were revered and treasured by the ancient Inca civilization. Today, alpacas still live on the Andean plateau in the mountains of South America. These beautiful animals were one of the key foundations to Inca commerce. The camelid provided food, clothing, fuel and transportation to the Incas who were accustom to a very harsh and hostile existence.
The Alpaca and Llama have been domesticated for around 6000 years. Today, approximately 99% of the world's approximate three million alpacas are found in Peru, Bolivia, and Chile. The center of the alpaca textile industry is in Arequipa, Peru. Yarn and other products are made from alpaca and sold primarily in either Japan or Europe.
Alpacas were first imported into the United States in 1984. Today, there are still fewer than 200,000 registered alpacas in all of North America. According the Alpaca Registry Inc. (ARI), Registered Alpaca Count published in the Summer of 2007 on the ARI web site there are approximately 147, 690 alpacas currently registered in North America. According to this (ARI), Registered Alpaca Count posted in 2007 the population consists of approximately 112, 778 registered Huacayas and 26, 915 registered Suris in the United States. To learn more about this data please see Our Links to review the ARI database. Obviously, this is a dynamic and growing population. The excitement and unique business opportunity the alpaca affords the North American breeder is easily appreciated.