Alpacas as Family Companions
Alpacas can make great companions! If you have simply fallen in love with an alpaca and now want to own them for enjoyment, join the crowd!
However, before rushing out to purchase that pet alpaca there are a few simple things to keep in mind.
First of all, alpacas are herd animals and must share a pen with another alpaca, so you will want to own two alpacas at a minimum.  Actually, having a few more is much more fun!
Secondly, make certain that the temperament of the alpacas you are acquiring is a match for your family's goals.  Alpacas live a long productive life so you are making a commitment to the care of great companion for many years to come!
Alpacas designated as "companion or pet quality" can range in price from "Free To A Good Home" and up. Most companion quality alpacas cost less or about the same price as an AKC puppy. Also, if you are interested in fleece production or spinning your own alpaca fleece, a Companion Quality Alpaca may represent a great opportunity. Simply because these alpacas are considered "pet quality" or "companion" alpacas, does not mean their fleece may not be of good quality for production of finished alpaca products.
Most companion alpacas have been removed from the breeding pool of a given alpaca herd and have been deemed companion quality by their owner.  There may be many reasons why this is the case. Reputable breeders will always disclose these facts upfront.  Please understand that companion alpacas are best suited to companion activities and are for fun and companionship, not breeding.  However, there are many different companion profiles such as therapy, or support activities that are very rewarding.  There are many other pathways to the enjoyment of companion alpacas.
If you are considering purchasing a companion alpaca perhaps consider an alpaca rescue operation.  Speak with local breeders to get good guidance.  Many new owners will need some support getting started.  There are many great alpaca ranches that are willing to help and they often have some companion alpacas available. There are some ownership costs to consider but a couple of alpaca pets are really quite inexpensive to own. However, you MUST shear them once a year.  This is a very important commitment! This will be likely the most difficult and most expensive aspects of owning the alpacas. It is essential that you shear them to preserve their health and quality of life.
For more information about companion alpacas, contact us.

Alpacas By The Sea Can Help You to Realize Your Dreams.
(650) 728-LUCK
(650) 728-5825
Fax: (650) 515-3000
For further information write to:
hibbits@alpacasbythesea.com
Shearing Day!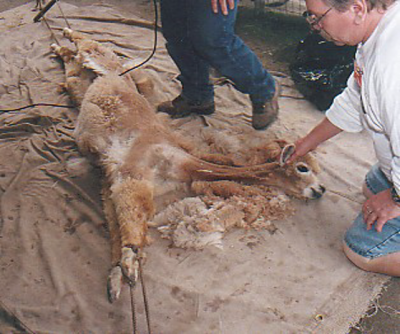 The alpaca shearer is a busy person come spring time.  You will need to schedule an appointment with most alpaca shearers in advance.  In general practice, the shearer will come to your location to shear them on-site.  If you cannot schedule them to visit your own ranch location, you can usually partner with a local breeder so your new friends can get their yearly maintenance.  This will include shearing and toe trimming.  This is also a great time for worming and other routine husbandry tasks.
Before you buy your own alpacas, it is a good idea to attend a shearing day at a local ranch so you can see what you are getting into long term.  Good research upfront will help determine if alpaca ownership is right for your family. There is also another way to own alpacas called agistment. Many folks refer to this as "boarding". In an agistment, you keep your alpacas at a breeder's ranch for a fee.  You will pay a small monthly fee for this service. This is an alternative to alpaca ownership on you own property. It can allow you to learn firsthand from a "mentor breeder". Then, in the future you can take your alpacas home.  Agistment is a great way for "city slickers" to enjoy the rewards of alpaca ownership. This is especially true for those folks that do not have suitable acreage.
Alpacas can be transported rather easily.  We were fortunate that we bought our first alpacas from Joan Speirs of El Ranchita in Sant Ynez, CA.  We bought two and put them in the back of our Ford Explorer SUV and drove the 5-hour drive back home.  I can still remember the look on the faces of the people in passing cars along the freeway as both alpacas stood up to use their newly created dung pile in the back of the SUV!  What a memorable start!
Alpacas can be transported most often in a small horse trailer.  We have used a Ford Econoline E250 van for years. Vans, Sprinters, and small horse trailers are great for alpaca transportation. There are also professional alpaca transporters available. These professionals specialize in the transporting alpacas all around the country. Alpacas typically kush once the vehicle is motion but on longer trips you need to be prepared for the  alpaca(s) creating a dung pile in the cargo area along the way.
So now you might ask yourself – "What is a dung pile"?  Alpacas are domesticated animals and are descendants of Vicuña. These majestic alpaca ancestors are a protected species and live on a high altitude plain called the altiplano.  As such, the territorial males mark their territory with dung piles. Alpaca dung will compost into very good fertilizer and it consists of small pellets similar to rabbit pellets. Alpacas will have dung piles in the paddock rather than fouling the entire pasture with their dung.  Thus, the pellets are very easy to clean up.  Once you visit your first alpaca ranch you will get the picture quickly. This is another fun alpaca fact. Once again, alpacas are easy keepers indeed!
To summarize, the routine expenses you can expect are annual vet exams, vaccinations, worming, feed costs and supplements to the feed. You will also want to have reasonable grazing space and adequate shelter, good fencing, and all the basic requirements for safe and responsible care of the alpacas. Most alpaca breeders can show the basics during an introductory visit.
Please be responsible about this commitment and make sure this is the best decision for your family long term. Alpacas are extremely hearty and they are often referred to as "easy keepers".  With a routine commitment to shearing and their general husbandry requirements, they can bring years of trouble-free ownership and enjoyment.
Wondering how your children will interact with the alpacas? Well alpacas seem to have an affinity for children and children seem to return the same admiration for the alpacas. Children can learn the basics about caring for a an alpaca, as well as becoming involved with 4H groups and developing a lifelong interest in animal care and husbandry.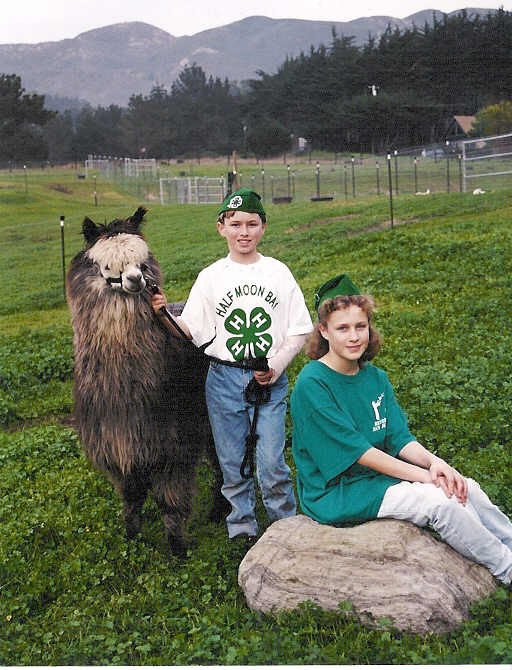 Our first two 4H kids were Neil & Larren Murphy Pictured here with Pierre The Alpaca.